THE VENICE CARNIVAL BALL FOR TWO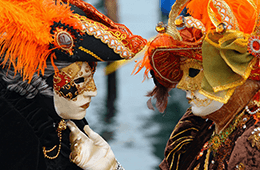 The most exclusive event of Carnival in Venice is set in a beautiful, candle-lit Venetian palazzo. Guests arrive in rich period costume, setting the scene for the "shared dream" of this "artistic, musical and theatrical event" which aims to remind guests of Shakespeare's famous affirmation that "we are such stuff as dreams are made on".
Top Venetian Chefs will use a blend of traditional and modern flavours to design the delicious and exciting menu, and international artists will provide the evening's entertainment.