PRIVATE VIEWING OF THE BRITISH CROWN JEWELS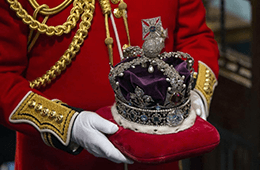 The Tower of London has been the home of the world famous English Crown Jewels for over 600 years. The jewels are those items used at the coronation of a sovereign and are collectively known as the Coronation Regalia. Admire Cullinan I diamond (530.2 carats) the largest top quality diamond in the world, set in the Sovereign's Sceptre. One of the most impressive crowns you will see is the Imperial Crown of India, set with emeralds, rubies, sapphires and 6100 diamonds. The Jewel House wardens will be on hand to share their wealth of knowledge.
Your guide will continue with a private tour of the Tower of London at your own pace, see the White Tower with an important collection of English and European armour. You will discover that the Tower of London has been at the heart of British politics and intrigue for a thousand years.
This incredible opportunity can be combined with a reception or a dinner at the Tower. Please note, private access can only take place outside of normal opening times.