LUXURY SAILING EXPERIENCES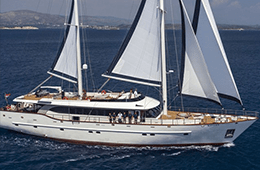 World of Travel is delighted to be able to offer you the ultimate in Luxury UK Sailing. Whether your after thrills, relaxation or a corporate day with style we can find the perfect experience to suit you.
Luxury Yachts
Offering a range of Luxury Sailing Days on custom built smaller yachts, stunning matched 54′ yachts, as well as 110′ super yachts. The yachts are all fully crewed and custom built for sheer indulgence and comfort – ideal for providing hospitality to important clients on corporate sailing days. Guests are welcome to take part in the sailing or settle back and enjoy the cruise. No sailing experience is necessary – many guests have never sailed before. Good food is an absolute hallmark of the corporate sailing days, there is stunning on board catering as well as access to excellent restaurants and yacht clubs.
The option of a powerful Rib to accompany each yacht is also available, providing both a tender for excursions ashore and a thrilling ride in itself.
There is also the option to participate in major events such as Cowes Week, Cork Week, Round the Island and expeditionary sailing.
River Thames
Nothing else comes close. River Thames Rib Events literally stop the traffic. Making the maximum use of London in a way never envisaged before. Blasting through London at high speed in close formation – there are no speed limits. You will see the heart of London, including Parliament and Docklands close up, as well as running past the O2, Greenwich and through the Thames Barrier to the Olympic Games site.Sailing with Europe's largest fleet of Ribs, ideally placed to entertain groups of up to 250. The River Thames Rib Treasure Hunts and Rib Blasts are an ideal accompaniment to a meeting or conference.
Sailing Racing on the Solent
Corporate Sailing Racing Events for experienced sailors are straightforward; the skill lies in organizing sailing events that are enjoyable for the novice and the experienced alike. 95% of guests have never sailed before!Sailing with experts in creating a fun environment with plenty of teamwork challenges, as well as providing highly competitive and safe racing for all, on big, safe and comfortable racing yachts.Take for granted that the yachts are modern and well presented, the secret lies in the choice of skipper and mate. We have a team who are accomplished at providing an exciting environment for the crew but who never forget their role as hosts.
Often combining sailing with Rib powerboats – take a break at lunch for a high speed close formation blast through the Solent before the afternoon racing gets underway.
Luxury Powerboat
Specialists in corporate Powerboat charter with several Sunseekers and a myriad of other Powerboats which personify speed, power and presence whilst providing an intimate and conducive atmosphere for entertaining important guests.
We work with you to create just the right day; watching a spectacular race or visiting the most attractive ports and landmarks on both the Island and mainland coasts. These huge Powerboats literally shrink the Solent.  An event which is Particularly  popular during Cowes week, we are able to place you in the heart of the action to soak up the atmosphere with full access to the most important venues.Exceptional 'on board' catering is a hallmark, alternatively you might wish to have a Rib available to take you ashore to the finest of restaurants as well as supplying a thrilling high speed white knuckle diversion!
Land, Sea & Air
A seamless day of non stop competitive action involving helicopters, powerboats and off-roading, all in the New Forest National Park and on the beautiful Western waters of the Solent.
Using Sunseekers or for ultimate thrill, Ribs; spend a half day speeding across the Solent in tight formation going from Port to port engaged in fiendish challenges as part of a Treasure Hunt, before stopping for an excellent lunch in a seafood restaurant overlooking the Solent.
Enjoy private use of one of the UK's most exciting purpose built 4×4 courses with a fleet of
legendary off road machines – the Landrover Defender, with plenty of hands on driving, and expert tuition.
Step from the Landrovers into a twin engine Squirrel for the ultimate tour of that most famous of landmarks, the Needles, together with Hurst castle, before flying back for the Pimms prize giving reception.