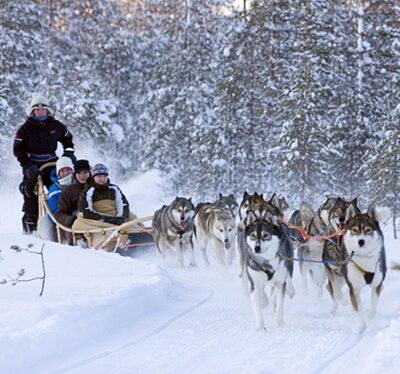 Explore the exquisite beauty of the Arctic on an adventure trip, 100 miles north of the Arctic Circle. You'll start by meeting your guide for a welcome drink, before heading to a choice of hotel. Enjoy the astonishing Ice Hotel; a chic hotel built from the ice each year, which melts away every spring. Relax in the Ice Bar, go for a sauna and then curl up in your thermal sleeping bags for a night in a bedroom made completely of ice. Alternatively opt for luxury in Finnish Lapland at Hotel Kakslauttanen and visit Santa's Village and celebrate Christmas in true Arctic tradition.
The experience includes a fabulous snowmobile tour – part of everyday life up here in the Arctic but fantastic fun nonetheless! Accommodation, equipment and some meals are included
– Three – Seven days in the Arctic on this sensational adventure
– Dinner under the Northern Lights
– Dogsled adventure across the Arctic Wilderness
– Stay at the chic Ice Hotel or Hotel Kakslauttanen
– A Fun Snow mobile Tour
      Optional activities also include
SNOWMOBILE
40 KLICKS OF FREEDOM
Learn to master the vehicle that gives you a sense of freedom out of the ordinary on a 40 km long snowmobile safari in Lapland's virgin forests.
IN THE ARCTIC TAIGA FOREST
An extra-long snowmobile tour that will take you into the wilderness and to one of our wilderness camps. Traditional wilderness lunch is included.
NORTHERN LIGHTS TOUR
In cooperation with the Swedish Institute of Space Physics we offer a snowmobile excursion in search of the magic northern lights where our trained guides during the excursion will tell you truths and tall tales about the mythical celestial phenomenon. A three-course dinner with local ingredients served in a wilderness camp is included.
ARCTIC WILDLIFE SAFARI
The excursion is in collaboration with the Swedish University of Agricultural Sciences and the ICEMOOSE project. Along with a local guide, this safari takes you through magnificent mountain sceneries. You get to learn about the animals living in the Swedish mountain world, what affect the moose has on the Swedish mountain climate and how to trace their tracks. Transfer and lunch with local ingredients is included.
OVERNIGHT TOUR WITH A TRADITIONAL WOOD FIRE SAUNA AND SEARCH FOR THE NORTHERN LIGHTS.
Surrounded by dense, snow-covered forests this guided snowmobile tour will take you to one of our wilderness camps, with access to a wood-fired sauna where you spend the night. Dinner and breakfast is included.
THE STORY OF HUSKIES
Take a seat in the sled, experience the howling dogs, and then the silence when the journey begins. Coffee and cake over a campfire is included.
EVERYDAY LIFE OF A MUSHER AS A MUSHER
An exclusive excursion where you get an insight in a musher's exciting everyday life. A tour to an isolated wilderness camp located far off the bea­ten track. Transfer and a traditional wilderness lunch served in a wilderness camp are included.
MOOSE SAFARI
At the foot of Sweden's highest mountain, Kebnekaise, you ride your Icelandic horses out into the moose winter grazing land in search of the king of the Lappish forest – the moose. Transfers and lunch is included. Minimum age limit is 12 years. Maximum weight 90 kg.
RÁIDU – ENCOUNTER WITH REINDEER
Join our Sámi guide to the reindeer camp for an encounter with the reindeer and Sámi culture. Reindeer sled ride around a short track. You hand-feed the reindeer calves that curiously come close to you. In a Sámi tent you will drink coffee and taste suovas, the Sámi national dish. Transfer included.
WITH THE SNOWMOBILE IN FOCUS
On this expedition, you focus on the snowmobile. You leave the ordinary trails, visit guide's fa­vourites and select areas after season to reach the best spots for the moment. Guide, transfers, ac­commodations and all meals are included.
FROM HOTEL TO THE ARCTIC OCEAN
A snowmobile expedition that takes you from your hotel to Treriksröset where Sweden, Nor­way and Finland meet. You continue down the mountain on the Norwegian side of the border to the Arctic Ocean. You finish the tour with an overnight stay at the Sami family, Päiviö, in the village of Soppero. Guide, transfers, accommo­dations and all meals are included.
SMOKE SAUNA
Smoke sauna is beautifully situated by the pond overlooking the Igloo Village. It provides room for over 100 persons in three separate saunas. In the winter you can dive into an ice-hole nearby, a perfect way to relax after hot air in the sauna.
VISIT SANTA'S VILLAGE
Visit Santa at his resort in Kakslauttanen. The resort includes Santa's own house, where Santa receives visitors. Elves serve hot drinks and ginger biscuits during your visit.
Near Santa's house there is a large reindeer pen, where you can see some of Santa's and his elves' reindeer and even drive a reindeer-drawn sledge in winter! In summer reindeer roam freely in the area, which has two peat shelters for them to use in hot weather.
Santa and his elves have built a 50 metre-long and 10 metre-high bridge over a bog to Gold Creek, where Gold Elves live in their own hut. Near the bridge there is a 10 metres high tower, home to the Bridgekeeper Elf. In summer Gold Elves dig for gold together with the other elves in Gold Creek. Santa, Gold Elves and the Smith Elf have a secret recipe that allows them to create millions of presents from the gold dug by the Gold Elves.
Christmas and New Year's Eve Programs are available on request.
*Single prices available at a supplement.
*Please note Flights to and from Kiruna (Sweden) or Ivalo (Finland) are not included. Please contact a member of our team and we will be happy to arrange all of your travel requirements.
*Availability limited to winter months at both hotels. Alternative accommodation and packages available.